Caddyshack
Event Date: Aug 2, 2019 10:00:00 PM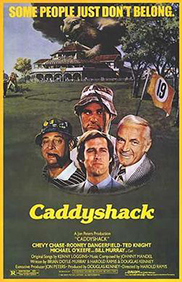 Caddyshack is a 1980 American comedy film directed by Harold Ramis, written by Brian Doyle-Murray, Ramis, and Douglas Kenney, and starring Chevy Chase, Rodney Dangerfield, Ted Knight, Michael O'Keefe and Bill Murray. Doyle-Murray also has a supporting role.
Caddyshack was Ramis' directorial debut and was a major boost to the film career of Dangerfield, who was previously known mostly for his stand-up comedy. Grossing nearly $40 million at the domestic box office (the 17th-highest of the year), it was the first of a series of similar comedies. A sequel, Caddyshack II (1988), followed, although only Chase reprised his role and the film was poorly received.
The film has garnered a cult fan following and has been hailed by media outlets, such as Time and ESPN, as one of the funniest films of all time.
Sponsored by: Tyler Sales and Service