Welcome aboard USS LST 393
Walk where heroes walked, right in downtown Muskegon! History jumps out at you from every deck and every corner. Discover LST 393's outstanding wartime record as you tour a nationally renowned veterans museum with artifacts and displays honoring those who served America and fought for the freedoms we enjoy today.
D-Day Plus 74 to run two days
How do you make Muskegon's most successful veterans commemoration better? Make it bigger!
"D-Day Plus 74" June 1-2 will be the fourth commemoration sponsored by Rolling Thunder Michigan Chapter 4 veterans support group at USS LST 393 Veterans Museum on the Muskegon waterfront. This year, it will expand to two full days of fun, food, flying, dancing and a chance to honor those who served and sacrificed.
For the first time, Friday will be a full day of activities honoring veterans and educating visitors about the realities of World War II. And it will end with a swinging "USO Style" dance that will knock your socks off, featuring the award-winning Reeths-Puffer High School Jazz Band.
Saturday will feature the exciting "Air Raid Muskegon," where World War II reenactors fire hundreds of blanks at authentic Warbirds to "defend" the historic warship. The popular Do Good Gals will conduct a family-friendly 1940s "pin-up" fashion show. Dozens of reenactors will display uniforms, weapons, vehicles and their knowledge of the roles of those who served in World War II.
Also planned are tours of a restored Vietnam War-era river patrol boat, a "PBR." Tours will be available from the bow of LST 393.
Support USS LST 393
Contribute to the preservation of USS LST 393.
You can now make a donation to the LST 393 Veterans Museum with any major credit card using our secure Paypal payment form.
LST 393 through the camera's lens
Baker College film students take you on a tour of Muskegon's historic warship USS LST 393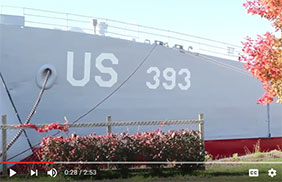 ---
Your source for the latest information on special events aboard the LST 393… Read more »

History will come alive for you as you take a fascinating tour of this historic ship … Read more »

Read more about LST 393's war record and the importance of LSTs in World War II … Read more »
---
Latest News
The nation's top historic ship group honored the founding father of Muskegon's USS LST 393 Veterans Museum with its most prestigious award this year. But all Daniel... Read more »
MLIVE - Marine to say goodbye to bomb-sniffing dog diagnosed with cancer Read more »
View all news
Take home a unique souvenir from the gift shop … Read more »

LST 393 is a unique and historic facility ready to host your next social, corporate, or special event … Read more »

Contact the museum curator or ask a question about an upcoming visit to LST 393 … Read more »
---

Trip Advisor Reviews