Welcome aboard USS LST 393
Walk where heroes walked, right in downtown Muskegon! History jumps out at you from every deck and every corner. Discover LST 393's outstanding wartime record as you tour a nationally renowned veterans museum with artifacts and displays honoring those who served America and fought for the freedoms we enjoy today.
USS LST 393 Veterans Museum is closed for the 2017 season. It will reopen 4-28-18.

D-Day Plus 73 … a Big Success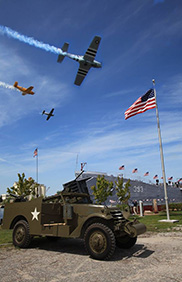 USS LST 393 and Rolling Thunder Michigan Chapter 4 commemorated the service of America's veterans June 3 by marking the anniversary of D-Day, the invasion of France in 1944. LST 393 was there at Omaha Beach and has the battle star to prove it. We made it a special day highlighted by a land battle between German and allied reenactors and "Air Raid Muskegon," a mock air attack on the ship by Hooligan Flight Team flying vintage aircraft. LST 393 was "defended" by dozens of World War II reenactors firing replica machine guns and rifles. Tours of the museum were free and the day included food, fun for kids and many special displays including the Michigan Vietnam Memorial Wall. It was preceded by a USO-style swing dance the night before featuring the Reeths-Puffer High School Jazz Band.
View our photo gallery from D-Day Plus 72 »
Support USS LST 393
Contribute to the preservation of USS LST 393.
You can now make a donation to the LST 393 Veterans Museum with any major credit card using our secure Paypal payment form.
LST 393 through the camera's lens
Baker College film students take you on a tour of Muskegon's historic warship USS LST 393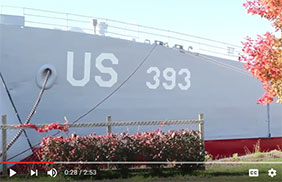 ---
Your source for the latest information on special events aboard the LST 393… Read more »

History will come alive for you as you take a fascinating tour of this historic ship … Read more »

Read more about LST 393's war record and the importance of LSTs in World War II … Read more »
---
Latest News
MLIVE - Marine to say goodbye to bomb-sniffing dog diagnosed with cancer Read more »
NBC12 - Marine dog with cancer gets tear-filled farewell Read more »
View all news
Take home a unique souvenir from the gift shop … Read more »

LST 393 is a unique and historic facility ready to host your next social, corporate, or special event … Read more »

Contact the museum curator or ask a question about an upcoming visit to LST 393 … Read more »
---

Trip Advisor Reviews