Welcome aboard USS LST 393
Walk where heroes walked, right in downtown Muskegon! History jumps out at you from every deck and every corner. Discover LST 393's outstanding wartime record as you tour a nationally renowned veterans museum with artifacts and displays honoring those who served America and fought for the freedoms we enjoy today.
USS LST 393 Veterans Museum is now closed for the 2016 tour season. It will reopen for tours 4-29-2017.

LST 393 damaged in freak windstorm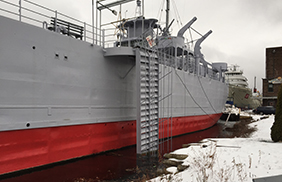 USS LST 393 sustained thousands of dollars of damage during a Dec. 28 storm that brought 65 mph winds from the northeast. That unusual high-wind direction pushed the ship away from its dock, snapping lines and dragging the anchor. The warship is back and secure; all plumbing, walkways and ladders have been replaced at great expense so the museum could open on time in May.  If you wish to help, tax-deductible contributions can be sent to USS LST 393 Veterans Museum, 560 Mart St., Muskegon, 49440, or use the credit card link on this page. You can also call 231-288-4503 or 231-725-5918.
"D-DAY GRAY": View our photo gallery of the Spring 2015 ship painting project here »
Support USS LST 393
Contribute to the preservation of USS LST 393.
You can now make a donation to the LST 393 Veterans Museum with any major credit card using our secure Paypal payment form.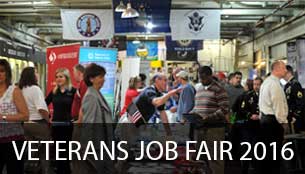 The 2016 edition of USS LST 393 Veterans Job Fair was a rousing success. There were 62 employers and hundeds of job-seekers on board.
---
Your source for the latest information on special events aboard the LST 393… Read more »

History will come alive for you as you take a fascinating tour of this historic ship … Read more »

Read more about LST 393's war record and the importance of LSTs in World War II … Read more »
---
Latest News
WZZM - LST 393 still needs repairs after wind storm Read more »
USS LST 393 passed one of its most rigorous inspections this weekend with flying colors. Cdr. G. Wayne Hessemer, USNR (Ret.), former captain of two LSTs, came aboard... Read more »
View all news
Take home a unique souvenir from the gift shop … Read more »

LST 393 is a unique and historic facility ready to host your next social, corporate, or special event … Read more »

Contact the museum curator or ask a question about an upcoming visit to LST 393 … Read more »
---

Trip Advisor Reviews