Welcome aboard USS LST 393
Walk where heroes walked, right in downtown Muskegon! History jumps out at you from every deck and every corner. Discover LST 393's outstanding wartime record as you tour a nationally renowned veterans museum with artifacts and displays honoring those who served America and fought for the freedoms we enjoy today.
THE MUSEUM IS NOW CLOSED FOR THE 2021 TOUR SEASON. IT IS SCHEDULED TO REOPEN FOR TOURS APRIL 30, 2022. MICHIGAN HEALTH PROTOCOLS WILL BE FOLLOWED.
Retired LST officer comes aboard                    for one last walk on his duty station
He was a retired Navy LST officer who wanted one last tour around a Landing Ship Tank's bridge.
He made it. Almost.
Mathias Joseph Wey became a rarity among Navy men in 1957; the University of Notre Dame grad was a Navy ship "plank holder" for USS LST 1171. That means he was on the very first crew at her commissioning, June 10, 1958. Ensign Matt Wey was the communications officer listed on the invitation to the formal commissioning ceremonies at U.S. Naval Station New Orlean.
The former Reserve Officer Training Corps (ROTC) ensign must have been proud to be part of the command structure of a warship that had a legacy of amphibious landings during World War II and Korea.
But his ship was new and would be one of the last ever built. It would not outlive him.
Only two LSTs remain today. USS LST 393 survived World War II, three invasions (including D-Day), a stint as a Great Lakes freighter and then was rescued from the scrap heap to become a veterans museum in Muskegon.
Wey wanted to walk the bridge of an LST one more time. But his time was running out.
He crossed Lake Michigan on the Lake Express Ferry from his home in Wisconsin on Aug. 26. His son, Matt, and daughter, Kit, drove him to LST 393 Museum and asked if he could try to climb the exterior stairs to the upper decks (the museum has no elevator). Though the stairs are normally closed, staffers gave the OK and stood by to lend assistance.
Wey, wearing an officer's utility cover (a working cap, not a formal hat), started up with his son's help. He would have to climb 22 steps and then a steeper ladder to get to the bridge.
He made it to step number six. His son helped him turn around and come down.
He may have been disappointed, but no one else was. He had boarded an LST one last time.
Mathias Joseph Wey died Sept. 1 at 86.
He donated an original invitation to LST 1171's commissioning to the museum, and it will be prominently displayed along with his Wall of Honor plaque.
Support USS LST 393
Contribute to the preservation of USS LST 393.
You can now make a donation to the LST 393 Veterans Museum with any major credit card using our secure Paypal payment form.
LST 393 Through the Camera's Lens
Baker College film students take you on a tour of Muskegon's historic warship USS LST 393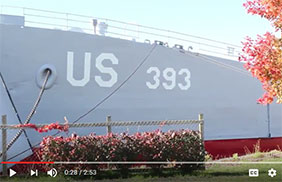 LST 393's New Comcast Commercial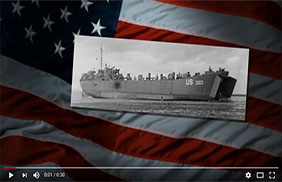 ---
Your source for the latest information on special events aboard the LST 393… Read more »

History will come alive for you as you take a fascinating tour of this historic ship … Read more »

Read more about LST 393's war record and the importance of LSTs in World War II … Read more »
---
Latest News
Detroit Free Press - Ship that landed on D-Day, then hauled autos, now a museum in Muskegon Read more »
The nation's top historic ship group honored the founding father of Muskegon's USS LST 393 Veterans Museum with its most prestigious award this year. But all Daniel... Read more »
View all news
Take home a unique souvenir from the gift shop … Read more »

LST 393 is a unique and historic facility ready to host your next social, corporate, or special event … Read more »

Contact the museum curator or ask a question about an upcoming visit to LST 393 … Read more »
---

Trip Advisor Reviews