Welcome aboard USS LST 393
Walk where heroes walked, right in downtown Muskegon! History jumps out at you from every deck and every corner. Discover LST 393's outstanding wartime record as you tour a nationally renowned veterans museum with artifacts and displays honoring those who served America and fought for the freedoms we enjoy today.
THE MUSEUM IS NOW CLOSED FOR THE 2022 TOUR SEASON. IT WILL REOPEN APRIL 29, 2023..
Movies on Deck ready for another fun summer
Click the poster to see the full schedule with event details.
Queue the sunset! Roll down the giant screen! Grab that popcorn bag!
Yes, it's Friday night in downtown Muskegon and time for the popular "Movies on Deck" at USS LST 393 Veterans Museum.
Now in its 16th year (with a one-year pandemic hiatus), the film series continues to thrive because families and businesses have committed to sponsoring individual movies.
The historic warship's "Movies on Deck" 2022 has a remarkable lineup, featuring some of the most popular movies of all time. The films are shown on LST 393's huge screen on the top deck starting right after sunset, around 10 p.m. In August, films start about 9:30.
Lucy Sorenson Pape Remembered
She was always the unofficial "first shipmate" of USS LST 393.
Lucy Sorenson Pape wielded the champagne bottle that launched the ship in 1942 in a ceremony at her father's shipyard. She was so proud she kept the beribboned broken bottle neck almost all her life, only relinquishing it in 2017 when she knew it would be safe in her ship's latest incarnation, LST 393 Veterans Museum in Muskegon, Mich.
Mrs. Pape passed away from Covid-19 on Oct. 19. She was 90.
She was just 11 years old on Veterans Day, 1942, when she was selected to perform the traditional christening at the launch of an LST (Landing Ship Tank), one of a fleet of innovative new landing craft that the Newport News, Va., Shipbuilding yard was constructing as fast as possible.
A shy girl, she was accompanied by her parents to the ceremony; she was told not to tell anyone about her role "and I didn't." But she was worried she might hurt the ship when she hit it with the bottle.
Eventually, 1,051 LSTs would be built in 12 shipyards across America … but LST 393 was hers.
Lucy was given the broken neck (in a net covered with festive ribbons) as a souvenir. It became a treasured possession, displayed prominently in her home. Visitors over the years would invariably remark on it, giving her an opportunity to tell the story once more.
In 2016, board members and historians traced Mrs. Pape to her home in Virginia. Though she had to turn down an invitation to attend the annual D-Day commemoration in Muskegon, she was thrilled to know the ship was thriving and sent the precious artifact back to the ship it helped launch.
It is displayed prominently next to the museum's other most coveted relic: the American flag that flew over the ship at Omaha Beach on D-Day.
Despite everyone's best efforts, she was never able to come visit the ship. But board members visited her on the 75th anniversary of the christening to present replica ribbons of those she donated, and made sure she received a bouquet of roses every November 11th.
Support USS LST 393
Contribute to the preservation of USS LST 393.
You can now make a donation to the LST 393 Veterans Museum with any major credit card using our secure Paypal payment form.
LST 393 Through the Camera's Lens
Baker College film students take you on a tour of Muskegon's historic warship USS LST 393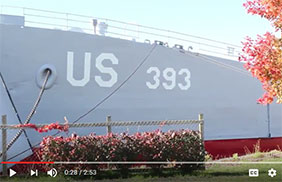 LST 393's New Comcast Commercial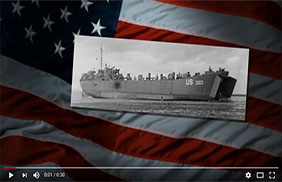 ---
Your source for the latest information on special events aboard the LST 393… Read more »

History will come alive for you as you take a fascinating tour of this historic ship … Read more »

Read more about LST 393's war record and the importance of LSTs in World War II … Read more »
---
Latest News
He was a retired Navy LST officer who wanted one last tour around a Landing Ship Tank's bridge. He made it. Almost. Mathias Joseph Wey became a rarity... Read more »
Detroit Free Press - Ship that landed on D-Day, then hauled autos, now a museum in Muskegon Read more »
View all news
Take home a unique souvenir from the gift shop … Read more »

LST 393 is a unique and historic facility ready to host your next social, corporate, or special event … Read more »

Contact the museum curator or ask a question about an upcoming visit to LST 393 … Read more »
---

Trip Advisor Reviews